Data Processing & Management Services
Data Processing Management
MDLLC Provides reliable and accurate data processing, verification and Management services combined with timely delivery and confidentiality. Your project is managed by our experienced BPO managers and staff to deliver 99% accuracy, using a variety of high quality techniques and standards. MDLLC is experienced with the following records processing.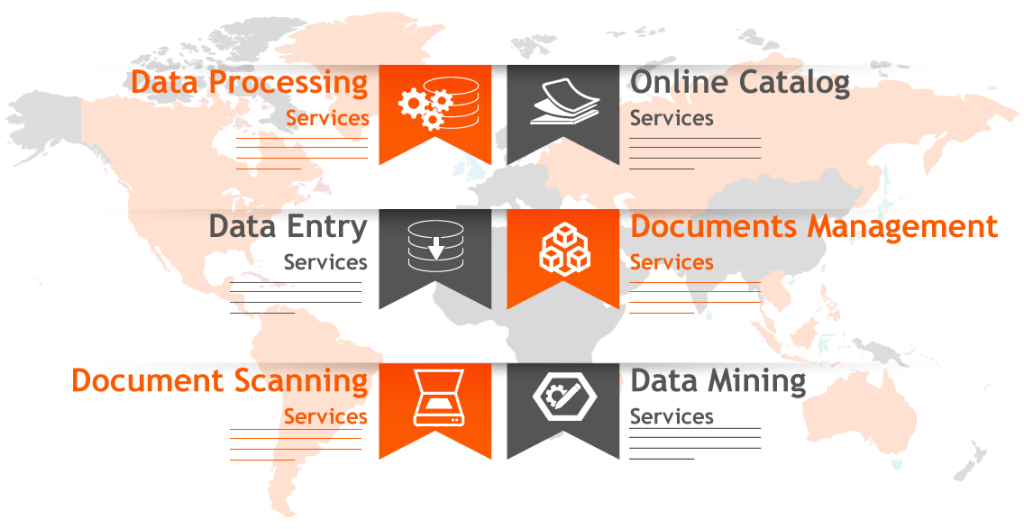 Data Mining Services
Data Processing Services
Online Catalog Services
OCR
Indexing
Scanning and Document Management
Convert your paper or microfilm documents into digital format, MDLLC helps you scan your business critical documents and convert them in to digital format for archiving and future use. Digitizing the paper documents also helps the organization to reduce storage space and efficiently locate the documents if required for reference.
Manhattan Data LLC. offers document scanning services, off-site document storage, and document management software. It's our objective to benefit organizations cut expenses, increase productivity, and start to redeem the promise of the paperless workplace. MDLLC services address all of your records management needs, so that you can concentrate on generating value for your business. MDLLC services includes
Mailroom
Document Preparation
Online Repository
Retrieval Database
Using secure VPN access to client' web sites and servers, Manhattan Data LLC workers can work online – straight in your IT environment. MDLLC maintains fast internet connections and works with a range of public and proprietary remote communication protocols.
Online Keying & Remote Verification
MDLLC uses secure VPN access to client's server or website to remotely verify data on their premises. The data remains secure and does not leave the clients work space.
If you're looking for independent and perfect data entry or data processing and verification services combined with safety and privacy guaranteed, then you have come to the correct place that is Manhattan Data LLC. At MDLLC your project will be handled by our skilled data entry workforce to deliver 99.95% accurate results, using multiple quality techniques.